CU Grow Embarks on Fourth Year Developing Minority-, Women- and Locally Owned Businesses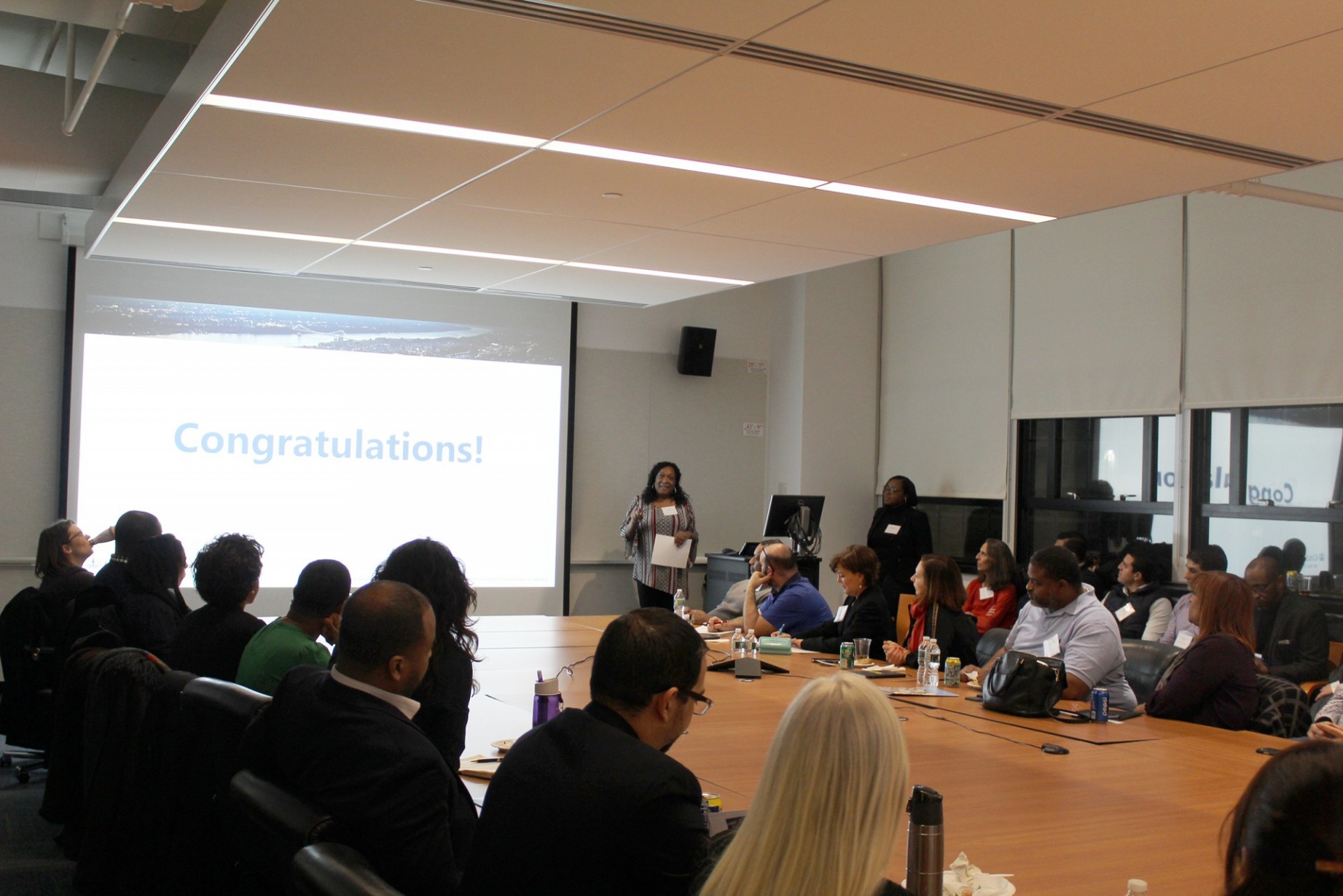 The CU Grow: Vendor Development Program launched its 2020 cohort on February 19 with a matching ceremony that introduced executives of 21 minority-, women-, and locally owned (MWL) firms to their dedicated coaches that they will work with over the next nine months of the program. 
The Facilities and Operations initiative, which is now in its fourth year, helps MWL firms build capacity and expand their business through opportunities with Columbia University and other large clients.
Over the course of the program, participants will receive personalized coaching to create a three-year growth plan and inform their executive level decision making. The coaches follow a structured curriculum designed by the Columbia University School of Professional Studies to guide the  MWL executives and support them in better defining their business policies and procedures.  Participants are also invited to attend four procurement events to network and identify opportunities with purchasers from various Columbia University campuses and resources from other partners.  Vendors who successfully complete the program will graduate in December 2020.
"I feel privileged and fortunate to be part of this year's cohort of CU Grow," said Rachel Frankel, principal of Rachel Frankel Architecture and member of the fourth cohort.  "I am eager to learn from my intelligent and seasoned coach with whom I felt immediately comfortable and well matched."
Since CU Grow began in 2017, 45 vendors have graduated from the program and have earned a combined $34.2 million with Columbia University. 

The vendors and coaches from the fourth cohort include:
Vendor

Margo Cargill, Titanium Linx Consulting, Inc.

Coach

Robert Dixon, Columbia University Facilities and Operations
Vendor

Ronald Diaz, DM Engineers PLLC

Coach

Leonardo Fabio, Axiom Consulting Group Inc.
Vendor

Annemarie diSalvo, DiSalvo Interiors

Coach

Lori Fay, Loxme Group Inc.
Vendor

Zakiyyah Flagg, Flagg Labor aka Capital Cleaning Services

Coach

William Diaz, ESC Cabling
Vendor

Rachel Frankel, Rachel Frankel Architecture

Coach

Anna Abelson, AA Marketing Consultancy LLC
Vendor

Nancy Goshow, Goshow Architects LLP

Coach

Danielle Douglas, Inspire Enterprise, Inc.
Vendor

Coach
Vendor

Nick Livaditis, Doumas Electric Inc

Coach

Patricia Warner, Covenant Seven Inc.
Vendor

Leisa Lundy, TriniAm Enterprises, LLC

Coach

Michael Divitto, Columbia University Facilities and Operations
Vendor

Patricia Marcaida, Minoritech, Inc.

Coach

Jose Morel, Columbia University Facilities and Operations
Vendor

Ian Minerve, Green Power Associates

Coach

Ingrid Reyes, Columbia University Facilities and Operations
Vendor

Grey Nina, G & J Leading Construction Inc

Coach

Tuesday Brooks, Ajoy Management Enterprise
Vendor

Wendy Peters, J.W.P Corp

Coach

Diana Benjamin, New Genesis Pathfinder
Vendor

Shakeel Rahman, Pencol Contracting Corp

Coach

S. Madison Bedard Business Consultant
Vendor

Xiomara Saba, J1 Door Company, Inc.

Coach

Donald Niccoli, Columbia University Facilities and Operations
Vendor

Bonnie Schnitta, SoundSense, LLC

Coach

John Rooney, Gilbane Building Company
Vendor

James Segura Bernardo, Candela Systems Corporation

Coach

William Etheridge, Douglas Elliman
Vendor

James Slade, Slade Architecture

Coach

Lloyd Grant, KIP Total Marketing Solutions
Vendor

Ingrid Stack, Stack Electric of New York Inc.

Coach

Carola Martinez Finlay, Columbia University Facilities and Operations
Vendor

Yolanda Valdes, Empower Contracting Inc.

Coach

Michele Wood, Michele Wood Consulting LLC
Vendor

Novak Vukasinovic, Steeplechase Design Build LLC

Coach

Jim Sugaste, Columbia University Facilities and Operations