CU Grow Graduates Fourth Cohort of Minority-, Women- and Locally Owned Businesses
After successfully transitioning the program to an online format earlier this year due to the global pandemic, the fourth cohort of the Columbia Facilities and Operations-led CU Grow Vendor Development program concluded with a virtual graduation ceremony held the evening of December 9.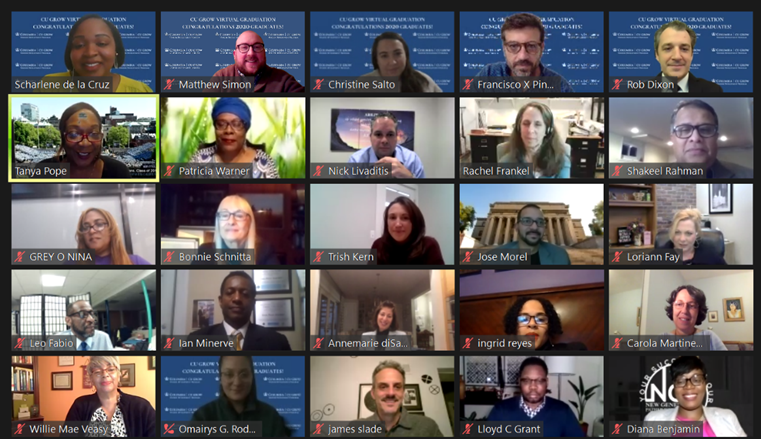 The cohort participants, comprised of 19 graduating businesses that included architecture firms, interior design, acoustic sound, painting, lighting experts, and more, were each matched with an executive coach to help them scale their business.   
This year, the program ran a little differently. After introducing the vendor participants and executive coaches at a matching ceremony earlier this year, the program had to transition the curriculum developed by the Columbia University School of Professional Studies (SPS) entirely online.  
With their knowledge in business development, procurement, project management, finance, marketing, the CU Grow Expert coaches were uniquely tasked with assisting firms in pivoting their businesses in the time of COVID while also planning their future growth plan.  
"For someone who has had her business for 20 years and never had a practice in reviewing my financials except for checking them at the end of the year, my coach helped put the importance on creating a system in perspective," said graduate Annemarie diSalvo, owner of diSalvo Interiors, about her coach, Lori Fay from the Loxme Group. 
The SPS curriculum is designed to support vendors to create a three –year growth plan, connect them with resources to gain the best business practices, and strategically review their overall business. Program participants also had the opportunity to take part in three virtual procurement events, including networking breakout sessions that allowed them to learn about opportunities from University Project Managers. The program concluded with each vendor participant presenting their three-year growth plan for their business in front of an expert panel.  
To better serve participants during this time, the program piloted a new offering, allowing participants to meet one-on-one virtually with a Marketing Expert in Residence to strategize their social media, website strategy, SEO practices, and create strategies to streamline proposals and develop a clear communication. In partnership with the School of Professional Studies' Construction Administration Master's Program, two Construction Experts in Residence will also join the team beginning in the spring to provide high-level construction support and evaluate CU Grow firms' business. Both offerings will now be a required component of the program.  
"To be able to run the program during this uncertain year was truly a blessing," says Scharlene De La Cruz, CU Grow Program Manager. "Now, more than ever, MWBEs needed support to grow their businesses and with the support of CUFO and SPS, including our incredible expert coaches, we were able to support 19 firms virtually." 
To be eligible for the program, vendors must be certified as a minority- or women-owned business enterprises or be based in Upper Manhattan or the South Bronx, have annual revenue between $250,000 and $5 million, and provide a product or service in need at the University.  
This year's graduates join 43 other alumni businesses who have completed the program since its inception in 2017.  CU Grow program graduates have collectively earned a combined $45 million and counting on construction projects within Columbia University.  
Applications for the program's fifth cohort, scheduled to begin in February 2021, are now available at cugrow.columbia.edu.  
To learn more about this year's graduates and the program's alumni, visit cugrow.columbia.edu/alumni.