Minority-, Women- and Locally Owned Businesses Grow with the Help of Columbia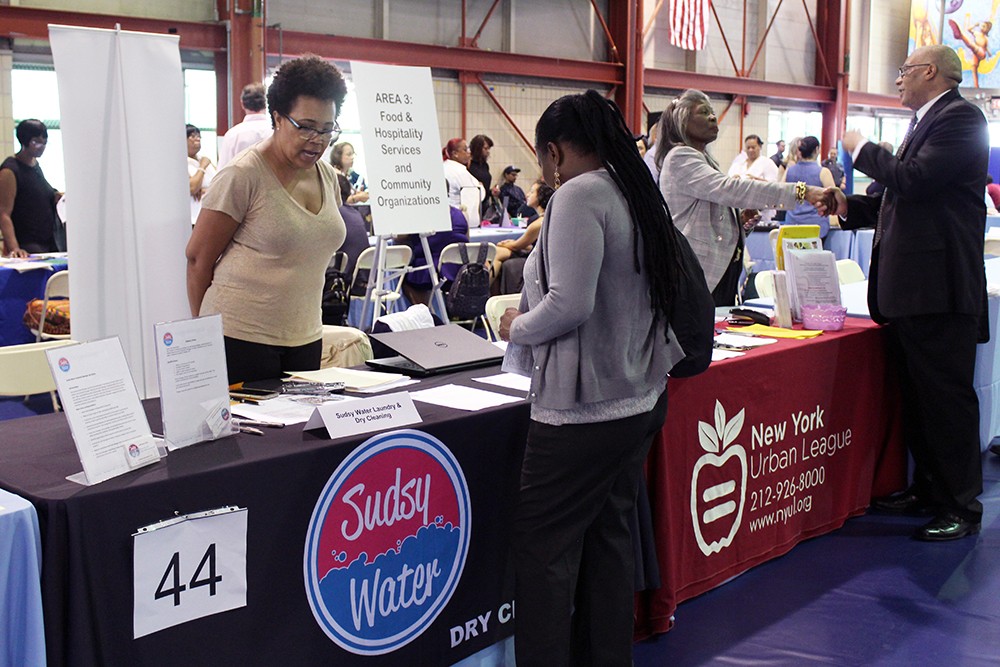 Like any other small business owner, Anne Whitman, CEO and President of Hudson Moving & Storage Co., was so preoccupied with her company's day-to-day operations that a deep-dive reflection into her business seemed like a pipe dream. That's one reason why she jumped at the chance to join a business coaching program led by Columbia University created to help small businesses grow.
Hudson Moving & Storage Co. is one of 23 vendor companies that are part of the inaugural cohort of the CU Grow Executive Coaching program. CU Grow is a Facilities and Operations-initiated program designed to help minority-, women- and locally owned (MWL) vendors of the University grow their businesses.
In the program—which launched in February 2017—a principal of each participating business is matched with an executive coach pooled from University administrators and partner organizations based on the specific needs of the business and the coach's areas of expertise.
"CU Grow simultaneously addresses two important goals for participating vendors—improving their current business opportunities while working strategically on their future," said Radhy Miranda, CU Grow program director and assistant director at Facilities and Operations. "On many levels, the program's purpose is quite intuitive—finding more opportunities at Columbia and with large partner institutions for vendors that we are already working with, while also helping them grow their business for the future."
Over the course of the nine-month program, the coaches led the business owners through a curriculum developed by the Columbia University School of Professional Studies (SPS) designed to help vendors create a growth plan, connect them with resources to gain specific knowledge and review their overall business plan.
"Our goal in developing the program's curriculum was to have coaches use a field-tested, semi-structured model to think through a business's strengths, needs and priorities that would help participants evaluate their current business models and establish a growth plan to expand their horizons with confidence," said Will Cortes, director of Executive Education at Columbia University's School of Professional Studies. "The School of Professional Studies is proud to have developed a coaching curriculum that supports minority, women and local business owners and reflects Columbia University's focus on quality, value, and excellence."
Whitman of Hudson Moving & Storage was paired with coach Danielle Douglas of Inspire Enterprise who used the Columbia University SPS curriculum to collectively take a deep look into her business and identify areas for improvement. Since the time that the CU Grow program began, Whitman has already relaunched her company's website with mobile viewing in mind—a recognition that the world is far past the place where desktop computers are the dominant platform.
To Whitman, the business strategy was only the beginning of the program's benefits. "CU Grow has such a strong focus on fulfilling the name of the program—growing your business," she commented. "The networking opportunities go beyond building great relationships with purchasing representatives at Columbia and partnering organizations.  We are building relationships with fellow program participants, where we are actively supporting and doing business with each other."
"It is fantastic that Columbia is reaching out to the community and to minority- and women-owned businesses and championing them through this program," she continued.
In addition to the capacity building and coaching, there is a strong emphasis to build vendor relationships with purchasers at Columbia and with University affiliates and partners in an effort to lead to more contracting opportunities. Program participants have the opportunity to participate in four procurement events over the course of the nine-month program, in addition to a presentation and Q&A from an executive in Columbia's procurement office.
To be eligible for the program, vendors must be certified minority- or women-owned business enterprises, or be based in Upper Manhattan or the South Bronx, have annual revenue between $250,000 and $5 million, and be an existing vendor of the University or provide a product or service in need at the University.
Since launching the program in February 2017, vendors in the CU Grow program have received more than $12 million from Columbia University for services rendered (through November 2017).
To Tanya Pope, assistant vice president for University Supplier Diversity and Construction Business Initiatives at Columbia University Facilities and Operations, creating the program was a logical step following the Corporate Alliance/Columbia University MWL Construction Trades Certificate Mentorship Program, which Facilities and Operations designed and implemented with five cohorts over the course of six years from 2008 to 2014. Firms that graduated from the mentorship program earned $33 million in construction and maintenance spend with the University through December 2014.
"Once we had identified firms and helped to build their capacity over six years of the mentorship program, the natural outgrowth was to ensure that they were doing business across Columbia's six campuses and with Columbia's large institutional partners—all while continuing to refine their business strategies," said Pope.
In addition to the School of Professional Studies, the partnerships of other organizations with Facilities and Operations have been critical to the program's successful launch. The Harlem Commonwealth Council provides bi-weekly courses following a business development curriculum for vendors participating in CU Grow's Opportunity to Grow/Capacity Building track. Vendors in this track have the same coaching sessions and participation in procurement events as the other CU Grow vendors, with the additional coursework on topics such as financing, marketing, pitching and other business skills.
"CU Grow is a logical extension of the business education and principles imparted during the previous mentorship program," said Robert Lopez, president of Blue Water Construction & Restoration Corp., a participant in the second cohort of Columbia's MWL Construction Trades Mentorship Program from 2009 to 2011. "In the time since the mentorship program, our company has continued to find ways large and small to work with the University.  Our participation in CU Grow offers our business another opportunity to expand our relationships across the University while we get to show our support and appreciation for Columbia's efforts to create these valuable, community-focused initiatives."
"What I love is how personalized this program is for the unique needs of each participating business," commented Quenia Abreu, CEO and founder of the New York Women's Chamber of Commerce, who is serving as a coach in the CU Grow program.  "It is a complete program that brings all the pieces of the business puzzle together – including training, business coaches, city and state resources and contracting opportunities inside and outside of Columbia."
The first cohort will conclude in late November with each vendor participant presenting their plan for growth in front of an expert panel, followed by a graduation ceremony.
Vendors participating in the first cohort of the CU Grow program:
Blue Water Construction & Restoration Corp.
C. JAMES PLUMBING & HEATING, INC
Civil Projects Developers Corp.
Corporate Construction & Project Management, Inc.
Earth Construction Corp.
Eastern Standard Consultants, Inc.
REC Electric
Smart-Wiring Electric, Inc.
W & B Electric Corp.