Columbia's La-Verna Fountain Helps Launch Northern Manhattan Fellowship Program
By
Office of the Executive Vice President
April 16, 2015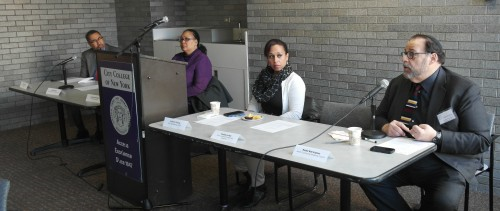 La-Verna Fountain, Vice President of Construction Business Services and Communications for Columbia University Facilities and Operations, served on the steering committee to form and launch a new fellowship program in Northern Manhattan.
The Northern Manhattan Fellowship, a project of The Center for Community Leadership at the Jewish Community Relations Council of New York, is a professional development and networking program connecting mid-level professionals with fellow leaders and experts in the non-profit and community organizing world in order to advance opportunities and create new synergies in Northern Manhattan.
Ms. Fountain joined Manhattan Borough President Gale Brewer, Debbie Kruger, program director for the Fellowship, Rabbi Bob Kaplan, Director of the Center for Community Leadership, and other community leaders at the launch event for the inaugural fellowship cohort on March 19.
In discussing the launch, Ms. Fountain was particularly enthusiastic about the program's focus on Northern Manhattan – the only program of its kind dedicated to building leaders committed to addressing the unique opportunities and challenges facing the northern part of Manhattan.
"The Northern Manhattan Fellowship brings together a dynamic, cross-section of leaders from a diverse group of organizations and industries across Northern Manhattan, allied with each other in support of a shared vision to help this community," said Ms. Fountain. "The relationships that get formed in the first cohort can have an impact for decades to come as these individuals maintain their connections and further their personal commitment to the Northern Manhattan community."
During the nine-month program, fellows meet twice monthly for seminars and within committees to build networking skills, increase community awareness, and meet leaders of organizations across Northern Manhattan.
Nearly 20 organizations in addition to Columbia University had leaders participate in the formation of the Fellowship program.
The final seminar for the fellowship's first cohort is in October with closing ceremonies in mid-November 2015.