Columbia Print Produced Over 75,000 Assets to Aid in Campus Reopening
As Columbia's campuses transformed to accommodate new health and safety measures this fall, Columbia Print played a critical behind-the-scenes role on a very visible element. In collaboration with campus partners like Columbia Creative, Communications and Public Affairs, and Facilities and Operations, Columbia Print produced a suite of new signage, postcards, and stickers to educate the Columbia community about ways to keep each other safe, like physical distancing and wearing face coverings. In total, Print produced more than 75,000 assets—everything from floor stickers to shuttle bus signage—many of which required a two-day, 24-hour, or even same-day turnaround.
Columbia Print is known for its adaptability and problem-solving, traits that served the department well during the COVID-19 pandemic as they transitioned to online-only orders. In the constant drive to improve their operation, Columbia Print purchased a sticker wide format printer just last year that allowed them to satisfy this year's high demand. Because Print had made that purchase, they were able to save the University thousands of dollars by printing internally; 75 percent of orders would otherwise have needed to be outsourced.
"We're always looking at new technology to help us be more efficient, and to create the best possible end product," said Matthew Dougherty, Assistant Director for Columbia Print. "We saw wall graphics and stickers becoming more popular and wanted to be able to print them in-house, which really paid off in an unexpected way."
Image Carousel with 3 slides
A carousel is a rotating set of images. Use the previous and next buttons to change the displayed slide
Slide 1: Signage thumbnails for the Morningside Campus

Slide 2: Examples of signage at the CUIMC campus

Slide 3: Printer showing a sheet of example images for stickers and postcards under the Stay Healthy campaign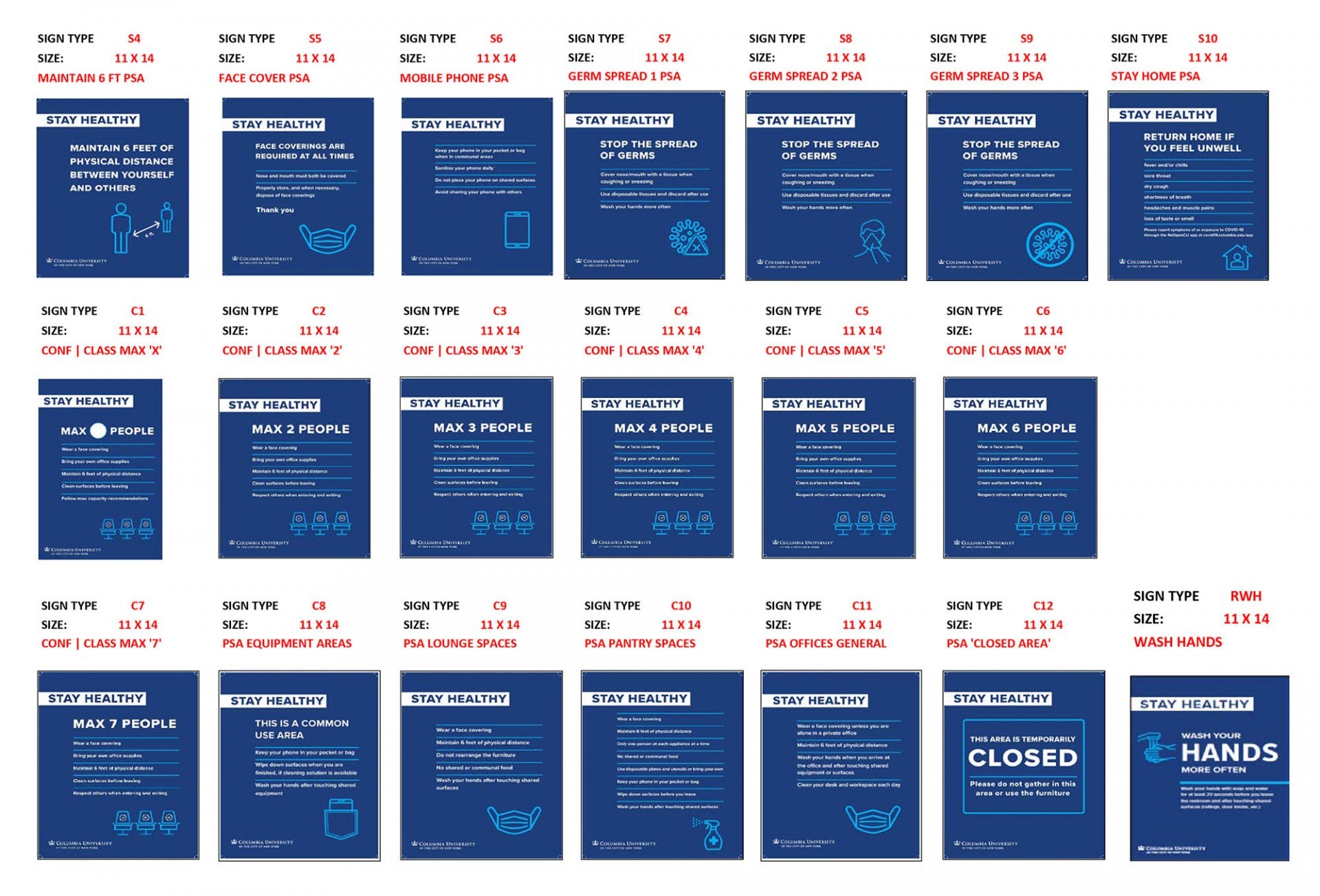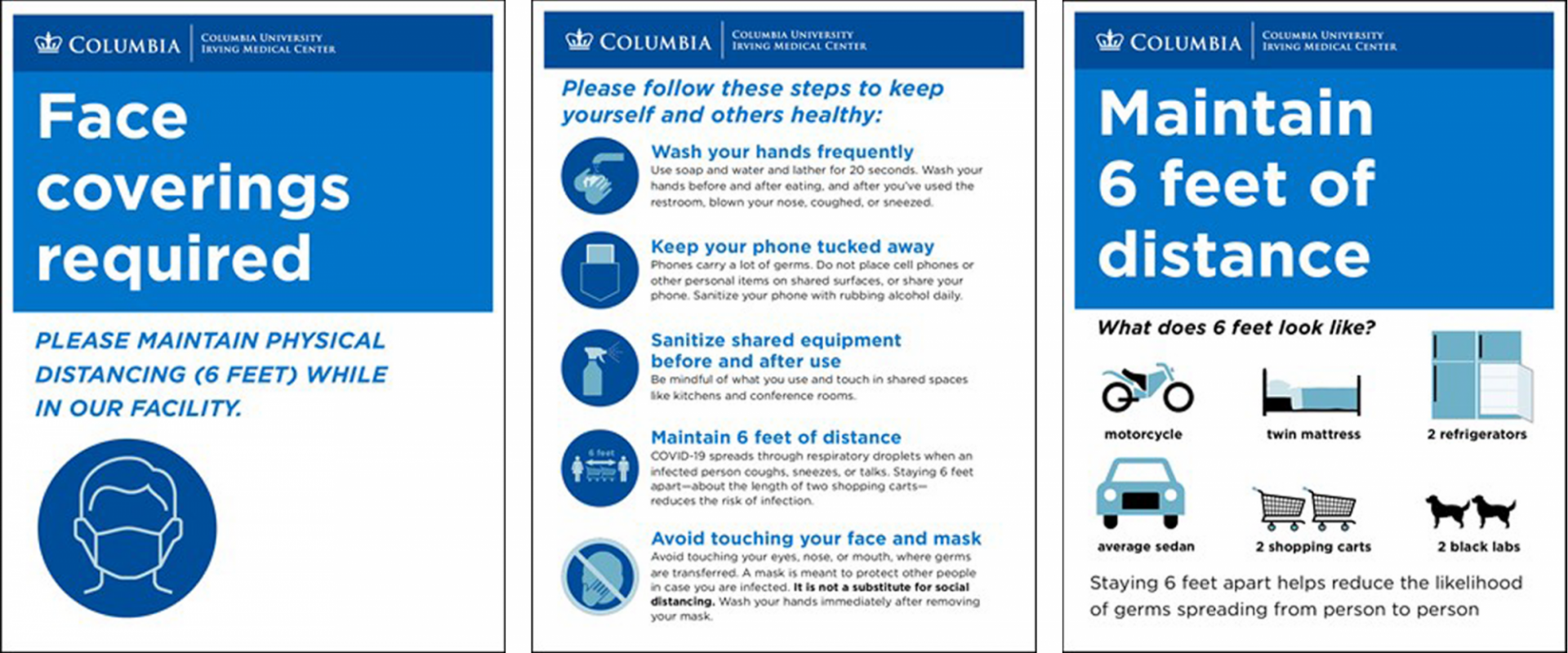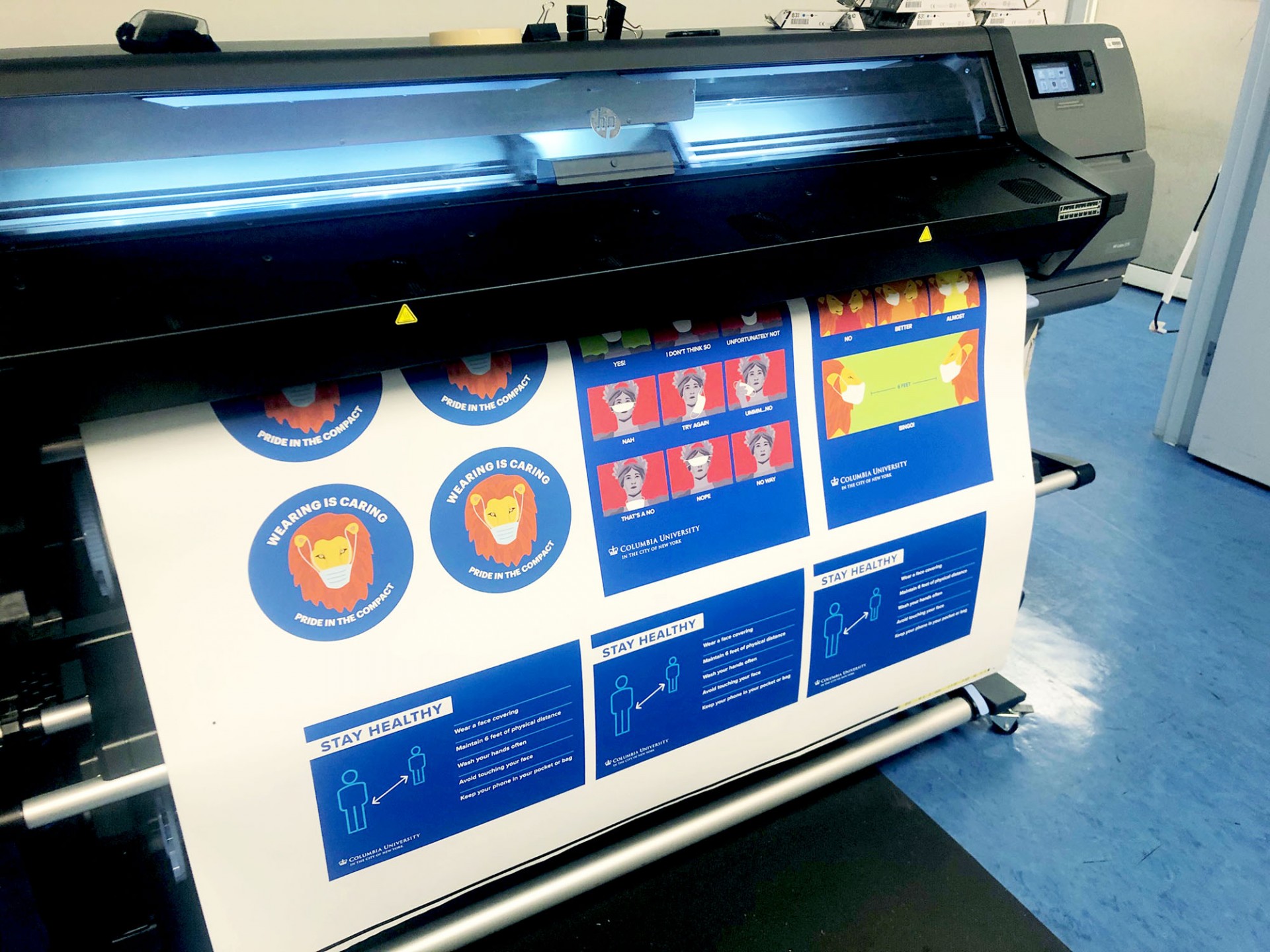 Previous
Next
The COVID-19 signage was developed following public health guidance and New York state requirements, and in collaboration with the University COVID-19 taskforce. The signs are designed to work in tandem with the individual behaviors articulated in the University's Enhanced Health and Safety Policy and the Columbia Community Health Compact.
Members of Facilities and Operations helped reinforce the Compact during the first two weeks of classes, volunteering on campus as #StayHealthy Ambassadors. Columbia Print aided University partners by creating the stickers and postcards the staff volunteers handed out to returning students and faculty, encouraging responsible actions like physical distancing and wearing face coverings.
Image Carousel with 3 slides
A carousel is a rotating set of images. Use the previous and next buttons to change the displayed slide
Slide 1: Stay Healthy Ambassador wearing a face covering and handing out postcards on campus welcoming new arrivals

Slide 2: Example of a postcard saying Keep Columbia Healthy with Alma Mater and Roaree the Lion each wearing a face covering and standing six feet apart

Slide 3: Keep Columbia Healthy sticker with an image of a face covering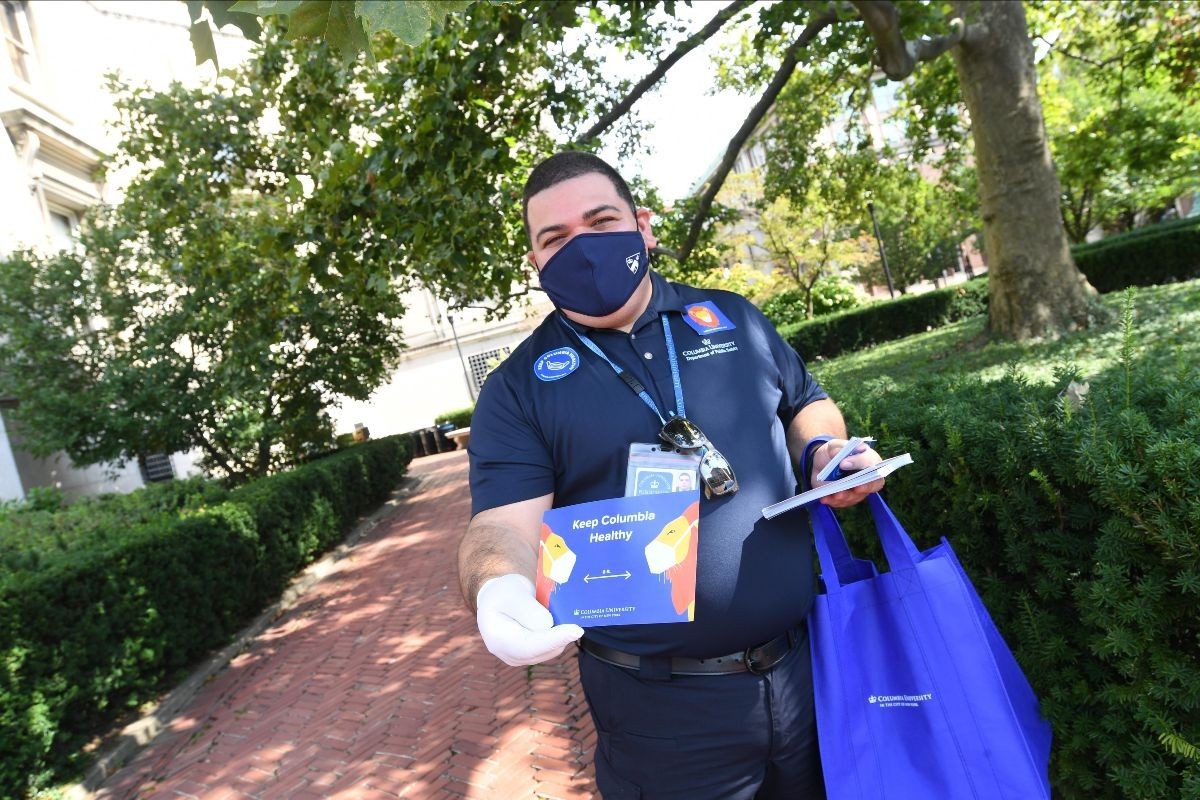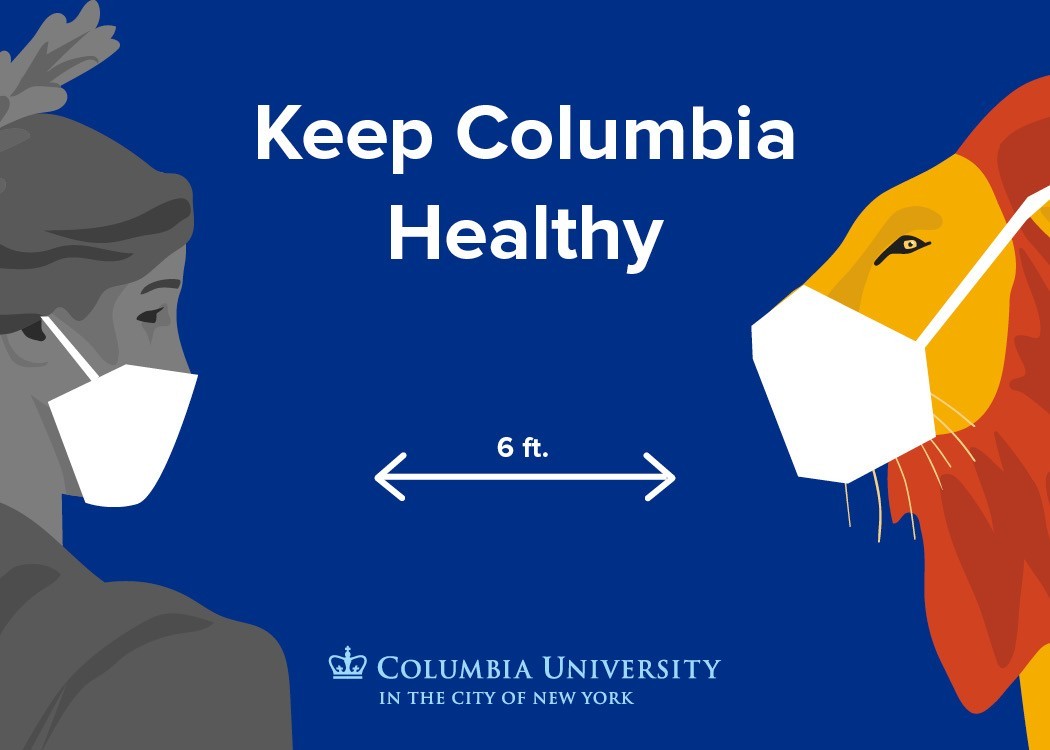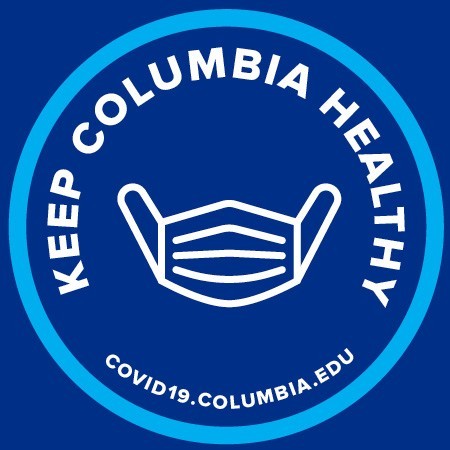 Previous
Next
Individual departments on the Morningside and Medical Center campuses can order stickers, postcards, or supplemental signage from Columbia Print's online catalogue. 
"While the sheer number of signs, stickers, and postcards produced was impressive in itself, most of these jobs were done in less than two days to get campus ready for reopening," said Mike Pagan, Executive Director for Columbia Print, Mail, and Transportation. "The team takes great pride in supporting these critical communications needs and in servicing the community by providing true value as an in-house print shop."