Columbia Staff Softball League Hits Home Run for Local Charities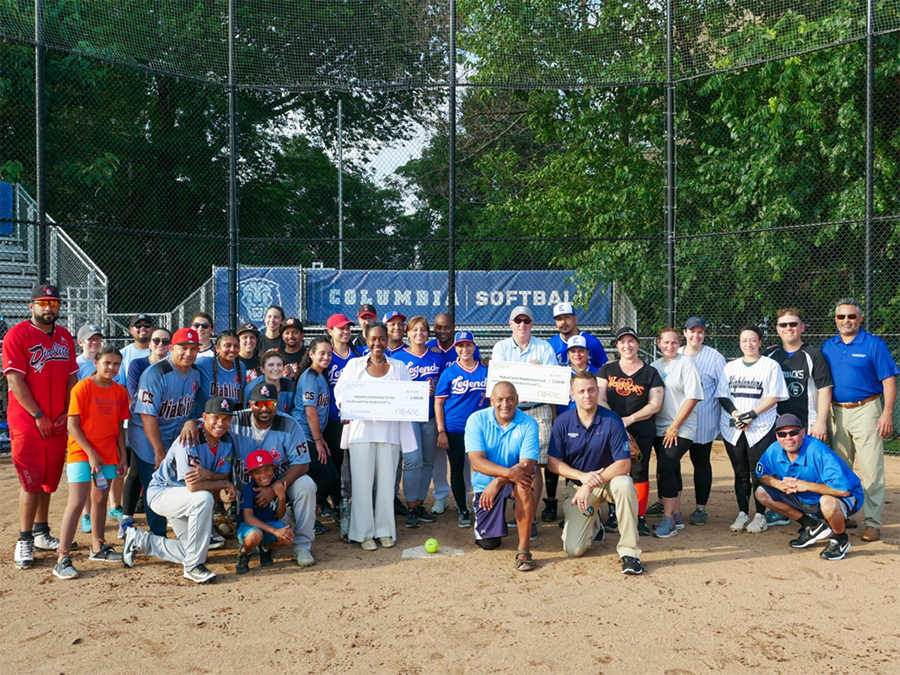 This year, the Columbia staff recreational softball league scored $2,400 for Columbia Community Service (CCS) and $2,350 for the Medical Center Neighborhood Fund (MCNF).
"Every summer, the softball league brings families and friends together to enjoy a game of softball. At the same time, they've thought of a way to help those who need help the most. They are truly Neighbors Helping Neighbors," said CCS Director Joan Griffith-Lee. "We value their time and contribution."
At the annual All-Star game at Baker Athletics Complex, the league presented the funds, raised from player dues and contributions. While the league has been raising money for CCS for the past four years, this year they added MCNF to help support University neighbors in Washington Heights.
The league, started in partnership with Athletics and Public Safety about a decade ago, includes teams from both Irving Medical Center and the Morningside and Manhattanville campuses. Several of the teams represent Facilities & Operations departments, including Campus Services, Columbia Dining, Public Safety, and the Manhattanville Development Group.
Athletics provides practice and competition space at no cost for all the teams, and also has a staff team on the league.
Mike Pagan, Executive Director of Administrative Services (Print, Mail, and Transportation), has been playing for nine years, and now serves as the CCS Treasurer for the League. "We're proud to have this opportunity to increase participation in CCS donations for staff who may not have contributed otherwise," he said. "Adding MCNF this year gives us an even greater sense of pride in helping these worthy and selfless nonprofits with the fine work they do for our neighborhood community."