Empowering Current and Future Generations
Explore the past and current programs and opportunities that recognize our colleagues and community.
Spotlight
Highlights of the accomplishments of our colleagues
Columbia Celebrates Black History and Culture
Columbia has a wealth of online resources detailing the breadth of the African American experience.
Learn more about some of the great Columbians who have played key roles in our local and national history.
Remembering Max Bond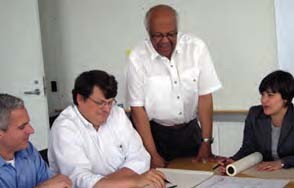 The late Max Bond was known as the most influential African-American architect in New York City and was a partner in the Davis Brody Bond firm. 
Bond said, "… I look forward to my role in helping to shape this area of West Harlem. For more than two decades, people have tried to develop this area, I feel fortunate to be part of the team that will create the campus of the future—one that welcomes the community, meets the needs of a great university like Columbia, and contribute to the future of New York City."
He passed away in 2009, but his early contributions to the development of Columbia's Manhattanville campus provided a legacy upon which others could build.
Other University Resources