Acclaimed Chef Franklin Becker to Create Multi-Concept Food Hall in West Harlem
Becker, of Iron Chef and Top Chef Masters fame, signs lease in Renzo Piano-designed building on Columbia University's new Manhattanville campus
August 13, 2019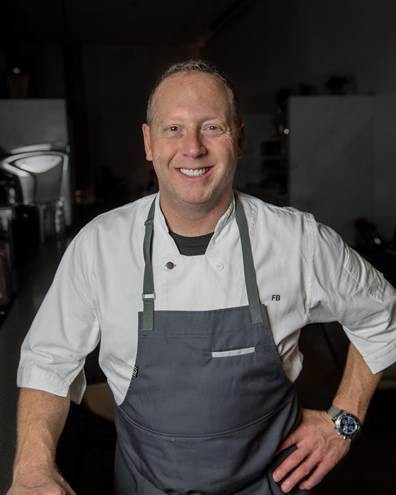 NEW YORK – Chef and television personality Franklin Becker has signed a lease to bring a new, multi-concept food hall to the Jerome L. Greene Science Center at Columbia University's new Manhattanville campus, rounding out the building's retail spaces.
The yet-to-be-named concept will include original, culturally diverse culinary offerings, developed by Becker, with potential categories such as a Southern food concept, a Sicilian-style pizza shop, an Israeli Hummisiya and a full-service Spanish tapas-style restaurant with outdoor seating.
Seasonally on the weekends, the space will include the addition of a bazaar with local vendors selling their artisanal products, produce and other ingredients.
"This project is very exciting for me, as is the ability to partner with such a prestigious university to bring diverse food concepts to the area," said Franklin Becker. "It has been a long time in the making and I feel we are poised to make a big impact on the neighborhood which is equally as rich and diverse."
The new food hall joins Dear Mama Coffee, Steep Rock Bouldering, a Community Wellness Center, an interactive installation about brain research, a Community Education Lab and The Forum's 4,200 square feet of free Wi-Fi, open seating and café as part of the civic and retail spaces that define the street-level experience of the campus.
The signing is consistent with the University's long-standing approach to its retail tenants, which favors local businesses that bring a variety of amenities and experiences to the diverse Columbia community, the wider local community and visitors.
"Columbia University is proud to welcome Franklin Becker to our diverse retail portfolio," said David M. Greenberg, executive vice president of Columbia University Facilities and Operations.  "This unique offering brings a first-class food hall experience to the Harlem area with opportunities for local vendors to showcase their products.  With three retail spaces in the Jerome L. Green Science Center, along with the Education Lab, the café and public programs at The Forum, the Small Square outdoor plaza and the exhibits and more at the Wallach Gallery and Lenfest Center, the new campus's public engagement opportunities continue to come to life."
Born and raised in Brooklyn, Becker attended the Culinary Institute of America. Since then, he has worked in some of the nation's most acclaimed kitchens, including Brasserie, Starr Restaurant Group, Grand Hospitality, EMM Group and Capitale. He also served as a co-founding partner of fast-casual concept The Little Beet and The Little Beet Table, and as the Culinary Director for all Aurify brands.
A regular on television, Becker was invited to compete in Bravo's Top Chef Masters in 2013, as well as Iron Chef America, and to this day regularly appears on The Today Show, Dr. Oz, The Rachael Ray Show and Beat Bobby Flay. He has also lent his culinary expertise to the publishing world, penning three cookbooks: The Diabetic Chef, Eat & Beat Diabetes, and most recently, Good Fat Cooking. He most recently transformed the restaurant at the Hotel Americano in Chelsea into La Central, a new Latin American restaurant, and has since left that project to focus on this new venture in West Harlem at Columbia and other opportunities.
At the new food hall, Becker is committed to hiring from within the community while working with local providers, farmers, fishermen and artisans - highlighting local culinary and entertainment talent.  "Product makes the dish, skill defines it" has always been his mantra.
He also plans to partner with an anti-hunger New York nonprofits to serve New Yorkers struggling to access and obtain healthy and affordable food.
Becker's culinary concept will occupy approximately 4,000 square feet on the ground floor as part of a 15-year lease in the northeast portion of the Jerome L. Greene Science Center at 3227 Broadway.  Winick Realty Group and Seasoned Hospitality represented Columbia University on this transaction.
At street level, the buildings throughout Columbia's new Manhattanville campus will be transparent in design, open to the public and programmed to engage the Columbia community and community-at-large. In addition to Becker's upcoming food hall, Dear Mama Coffee and Steep Rock Bouldering, the street-level public spaces in the Jerome L. Greene Science Center include:
A Community Wellness Center offering blood pressure and cholesterol screenings, as well as mental health and stroke prevention training, under the direction of Dr. Olajide A. Williams, chief of staff/chief medical officer of Neurology at Columbia University Medical Center and Dr. Sidney Hankerson, assistant professor of Clinical Psychiatry at Columbia University College of Physicians & Surgeons
An Education Lab offering public programs on brain science for the community and K-12 schools, with hands-on activities that harness the Mortimer B. Zuckerman Mind Brain Behavior Institute's research
In addition, the first open space to be completed on the new campus, the Small Square, offers an informal, 10,000-square-foot outdoor plaza designed to engage the public and University community with seating areas and free Wi-Fi.  Dear Mama Coffee's entrance opens into the Small Square on the west side of the building, also facing the Lenfest Center for the Arts.
The largest academic building ever constructed by Columbia University, the LEED® Gold-certified Jerome L. Greene Science Center, designed by Renzo Piano Building Workshop with Davis Brody Bond as executive architect and Body Lawson Associates as associate architect, provides 450,000 square feet of space for the neuroscience researchers of the Mortimer B. Zuckerman Mind Brain Behavior Institute. Established in 2012, the Zuckerman Institute is Columbia University's comprehensive center for interdisciplinary and collaborative research in brain science.
Design for the new food hall is currently underway, with opening anticipated in summer 2020.