Columbia University Receives Engineering Excellence Award for the "Bubble at Baker"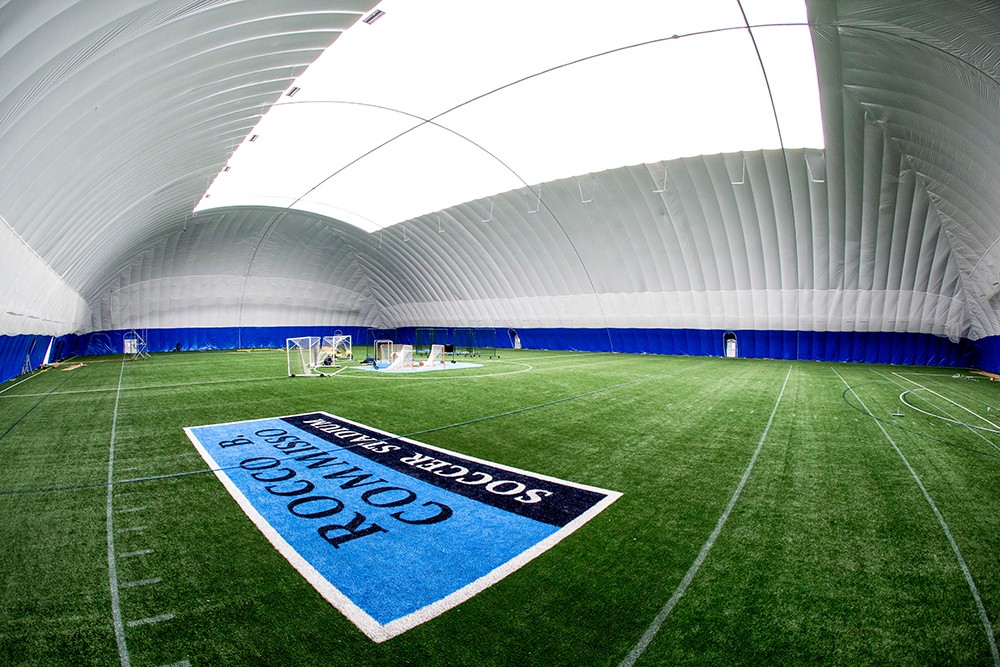 Columbia University received a Gold Engineering Excellence Award from the American Council of Engineering Companies of New York (ACEC New York) for the construction of the Bubble at Baker, a seasonal air-supported structure covering the Rocco B. Commisso Soccer Stadium to create an indoor practice facility for Columbia Athletics during the winter months.  The award was received in the category of special projects as part of ACEC New York's 2018 Engineering Excellence Award competition. 
Designed by Rafael Viñoly Architects, the Bubble at Baker is comprised of a double-skin layer of vinyl fabric and uses air handling units to control the heating, pressurization and ventilation to create a temporary, climate-controlled, weather-protected facility.  The structure is erected each winter from November to early April, providing approximately 96,000 square feet of indoor practice space for Columbia's field sports teams to train year-round. 
In addition, the project included the reconstruction of the existing soccer field and the installation a new, NCAA-certified, synthetic turf. 
Cameron Engineering, the sub-consultant on the project, received the award.  The firm provided design services for the synthetic turf soccer field, utilities coordination, civil engineering systems, and structural foundations for the seasonal air supported structure.
Columbia has previously received Engineering Excellence Awards from ACEC New York for projects including the renovation of the Studebaker Building and the construction of Jerome L. Greene Science Center, located at the Manhattanville campus.
The Engineering Excellence Awards, an ACEC New York hallmark for more than 50 years, honor member firms for design achievements of superior skill and ingenuity.  In 2018, awards were presented to over 150 ACEC New York member projects in the following categories: studies, research, and consulting services; building/technology systems; structural systems; surveying and mapping technology; environmental; waste and storm water; water resources; transportation; energy; industrial and manufacturing processes and facilities; and special projects.  Projects are judged on a rigorous set of criteria, which includes complexity, innovation and value to society.