CU Grow Graduates Fifth Cohort of Minority-, Women- and Locally Owned Businesses
The Columbia Facilities and Operations-led CU Grow Vendor Development program graduated its fifth cohort of participants – comprised of 17 businesses that include architecture firms, interior design, electrical, construction safety management, painting, fireproofing experts, and more – during a virtual graduation ceremony on December 16.
This year's cohort represented a program redesign to maximize the impact within its virtual engagement for the second year. The curriculum developed by the Columbia University School of Professional Studies (SPS) transitioned to acknowledge participants engaging with their and expert coaches entirely online. New program components were introduced to support each participant's learning experience in a virtual platform.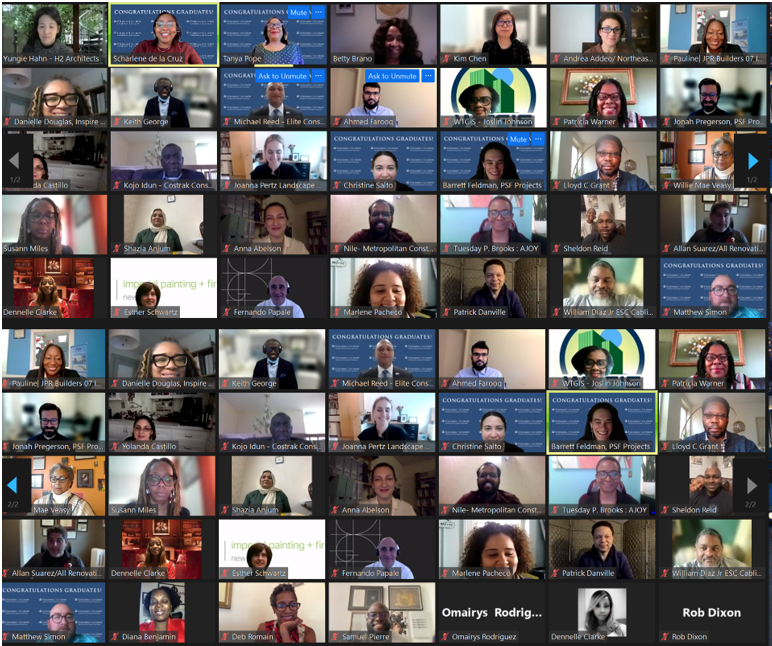 For the first time, participants were required to meet virtually one-on-one with a Marketing Expert in Residence to strategize their social media, website strategy, and SEO practices and create strategies to streamline proposals and develop a communications plan. In addition, each met with a Construction Expert from the School Professional Studies' Construction Administration Master's Program, who provided high-level construction support and helped firms evaluate specific trade issues. Participants also benefited from a new workshop on executive presence that helped strengthen their leadership skills as CEOs or founders of their company, along with industry-level webinars that equipped them to understand the comprehensive levels of cost-estimating and AIA Invoicing.
With their knowledge in business development, procurement, project management, finance, and marketing, the CU Grow Expert Coaches supported participants throughout the program, working together to evaluate the unique challenges their businesses face and assist firms in planning their three-year growth plan. 
"Working with Andrea Addeo of Northeast Electrical Contractors was a pleasure and a learning experience for myself," says Kim Chen, Director of Capital Project Management and Planning and first-time CU Grow Expert Coach. "Throughout the process, the vendor gradually learned how to break down the process with detailed steps and quantify the goals and results. Together, we explored opportunities for growth for her electrical company, including in areas of innovation and technology related to renewed and green energy."
The SPS curriculum is designed to support vendors in creating a three–year growth plan, connecting them with resources to gain the best business practices, and strategically reviewing their overall business. Program participants also had the opportunity to partake in four virtual procurement events, including networking breakout sessions that allowed them to learn about opportunities from university project managers. The program concluded with each participant presenting their three-year growth plan for their business before an expert panel. 
"As architects, we've spent years honing our technical skills, though very rarely taking the time to build entrepreneurial and business knowledge," says program participant Barret Feldman of PSF Project Architecture. "Through the CU Grow Program, we have learned how to communicate and present ourselves and our team's diverse experience with greater clarity, purpose, and impact both verbally and in our written materials."
To be eligible for the program, vendors must be certified as a minority- or women-owned business enterprise or be based in Upper Manhattan or the South Bronx, have annual revenue between $250,000 and $5 million, and provide a product or service in the built environment including construction trades, professional services, suppliers, and commodities.
This year's graduates join 62 other alumni businesses that have completed the program since its inception in 2017. CU Grow program graduates have collectively earned a combined $59 million and counting on construction projects within Columbia University. 
Applications for the program's sixth cohort, scheduled to begin in February 2022, are now available. Please visit cugrow.columbia.edu/apply for more information. 
To learn more about this year's graduates and the program's alumni, visit cugrow.columbia.edu/alumni.