CUFO Supports Women Builders Council's AIM 2021 Leadership Forum
Tanya Pope, Assistant Vice President of University Supplier Diversity, was among the expert moderators at the Women Builders Council's (WBC) AIM (Act, Inspire, Motivate) Leadership Forum, a two-day event held on March 11 and 12 designed to integrate the needs of women in the construction industry at various stages in their careers and at all levels of leadership. Focused on the impact of the COVID-19 crisis, the AIM 2021 Forum offered practical skills for professional growth in the building industry through a series of online workshops, providing new insights into leadership strategies for moving from emergency to economic recovery.  
"We appreciate all of our sponsors, including our industry partner Columbia University Facilities and Operations for their support and expertise as we build the next generation of women in the construction industry," said Vice President of Workforce Development & Engagement for Turner Construction and President of WBC Stephanie Burns.  
At the forum, Pope moderated the workshop "Managing Risk: How to Conquer the Unknown," focused on providing women tactics for navigating through challenges while managing risks in their personal and professional lives. Joining Pope were panelists Lorraine D'Angelo, President of LDA Compliance Consulting, Carolyn Farino, Head of Insurance (Americas) for Lendlease, Jacqueline Horowitz, Regional Manager for Holt Construction, Sara Kendall, Vice President and General Manager of Turner Construction Company (Interiors), and Lisa-Ann Marchesi, Vice President of Property and Casualty Corporate Services, NFP.  The panelists shared the lessons learned in taking risks, insight on how to manage projects that take you into the unknown, advice for the next generation of women in the construction industry on how to stay calm when things do not go as planned and on how to navigate big professional decisions such as asking for a salary increase, and guidance on how to seek mentorship.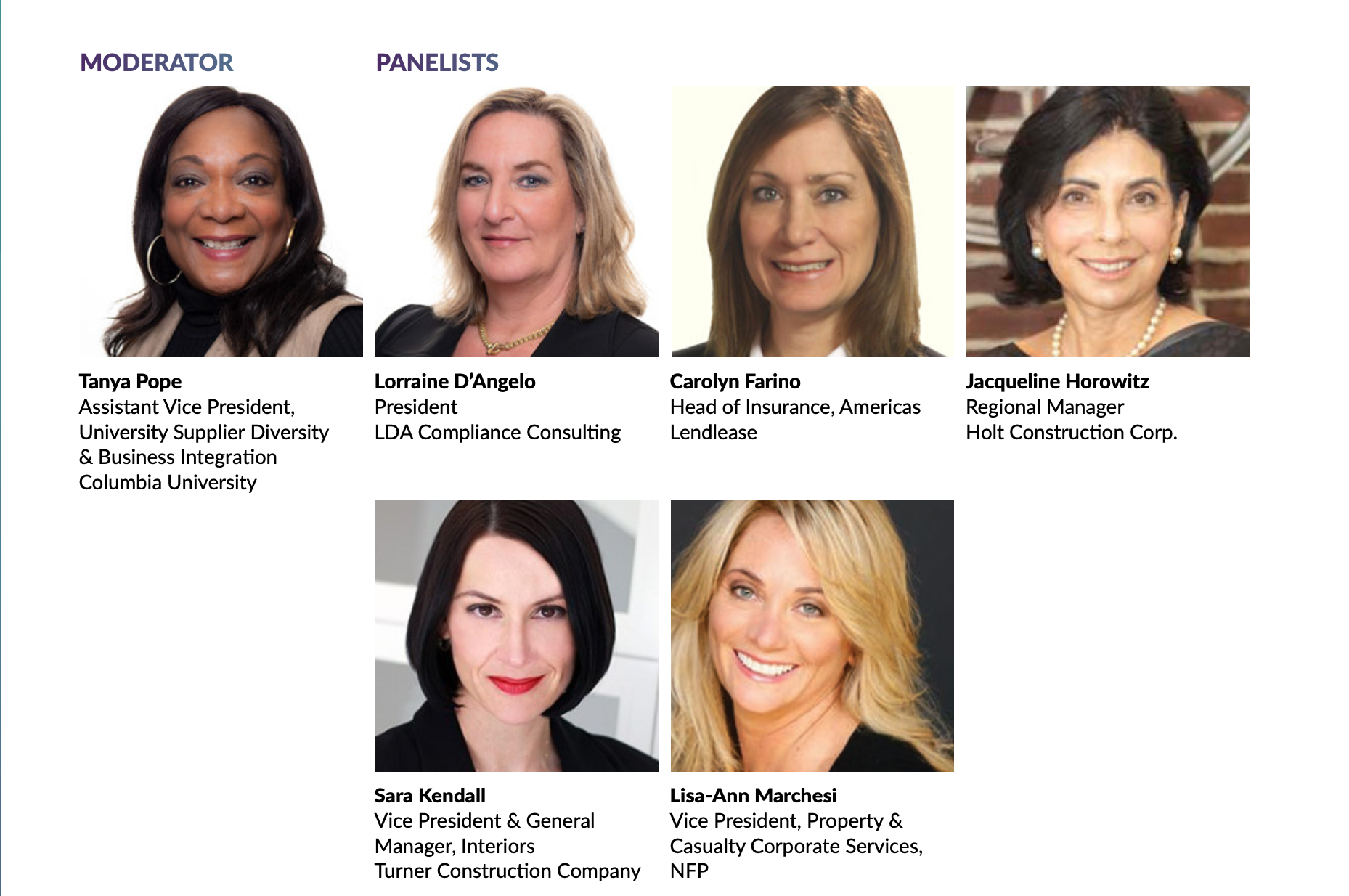 For Pope, managing risks during challenging times is a practice she has become very familiar with. One month into the fourth cohort of the CU Grow Vendor Development Program, Pope and the CU Grow administrative team were uniquely tasked in assisting minority-, women and locally owned (MWL) enterprises in pivoting their businesses in the time of COVID.  With the support of the Columbia School of Professional Studies, the CU Grow team successfully transitioned the program, including all events, to an online format, graduating its fourth cohort in December 2020 and launching its fifth cohort in February 2021. 
"With a long-standing commitment to working with minority, women-owned and locally based (MWL) businesses, Columbia University supports programs like WBC's AIM Leadership Forum for offering the skills and strategies that are not always available in the workplace to help us better serve women in the building industry," said Pope.  
Established in 2004, WBC is a leading association representing women in construction with a focus on leadership. In its second year, the AIM 2021 Virtual Leadership Forum focused on helping women build their own professional and personal "Leadership Playbook" offering a variety of panel discussions on everything from how to create your own leadership style, managing the new virtual work environment and adopting and embracing best practices for diversity and inclusion in the construction industry.