The Forum Earns LEED Gold Certification
Third new building at the Manhattanville campus to be awarded LEED Gold
April 10, 2019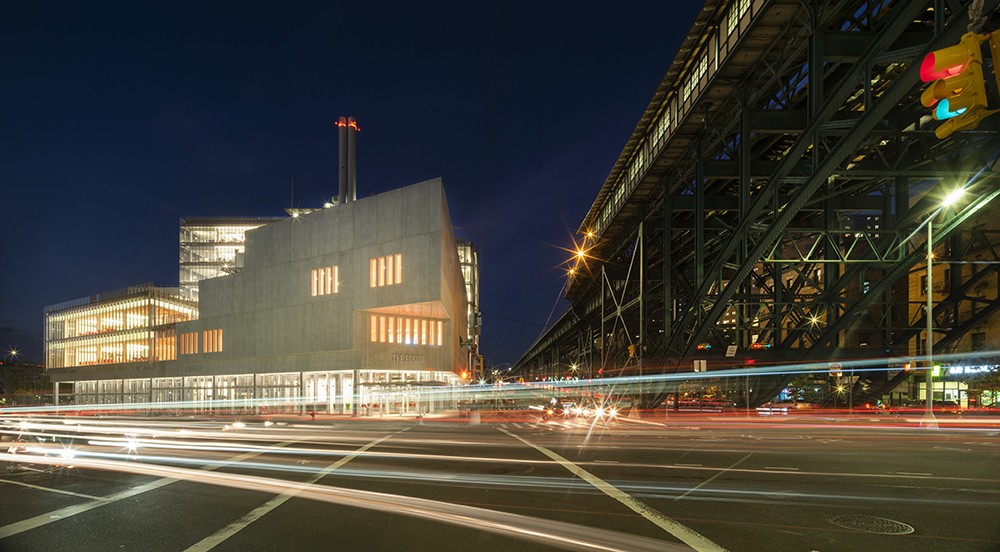 Continuing Columbia's commitment to sustainable design and construction, The Forum is the latest building to be awarded LEED® Gold certification from the U.S. Green Building Council (USGBC).
LEED, which stands for Leadership in Energy and Environmental Design, is the foremost green building certification program measuring how sustainable a building is in areas including energy, water efficiency, material selection and indoor air quality.
The three-story, 56,000-square-foot Forum is the third new building to open at the Manhattanville campus and the third to be awarded LEED Gold.
"Columbia's Sustainability Plan is a key initiative for University operations," said David M. Greenberg, executive vice president of Columbia University Facilities and Operations. "The Forum's LEED Gold certification is a testament to Columbia's continued investment towards its sustainability goals of maximizing energy efficiency and reducing carbon emissions."
The Forum's LEED Gold rating was achieved through a broad range of criteria, such as utilizing the building's sustainable site, improving water efficiency, reducing energy, and more.  Highlights of the sustainable construction and design elements used include:
Highly reflective roof that redirects solar heat and reduces the energy needed to cool the building.
High efficiency flush fixtures which save approximately 313,000 gallons of water per year.
State-of-the-art daylight controls automatically adjust and reduce the need for electrical lighting by turning off indoor lights when natural light is sufficient.
A Construction Indoor Air Quality Plan helped avoid pollutants that might be generated or absorbed during the construction process and testing to ensure that the air quality met stringent criteria before occupancy.
Wood-based materials certified in accordance with the Forest Stewardship Council principles.
Low emitting paints, coatings, adhesives, sealants, floor systems, composite wood, agrifiber products, systems furniture and seating during construction.
Construction at Manhattanville follows a model clean construction program, which includes the prioritization of electric equipment over diesel equipment; the use of the latest diesel emission control technology for on road and off road equipment when diesel is required; a wheel washing system for trucks that uses a high volume of recycled water, and other efforts addressing air quality, noise and vibration reduction and pest management.
"I am proud to work with a distinguished team that is dedicated to sustainability. The LEED Gold certification is well deserved for the team's innovative work that will undoubtedly serve as an inspiration for future construction projects in higher education and beyond," said Marcelo Velez, vice president of Columbia's Manhattanville Development Group.
"Building energy use makes up a substantial percentage of the University's overall environmental impact," said Jessica Prata, assistant vice president of Environmental Stewardship. "Our ongoing success in increasing LEED certifications is an important contribution to Columbia's emissions reduction goals."
The Forum was designed by Renzo Piano Building Workshop, with Dattner Architects as executive architect and Caples Jefferson as associate architect.  Located on the corner of Broadway and 125th Street, the building serves as the gateway to the Manhattanville campus, and features a 437-seat auditorium, a variety of meeting rooms and offices, and community programming at street level. 
The Forum joins 13 other LEED-certified projects across the University, including the Jerome L. Greene Science Center and Lenfest Center for the Arts, new buildings at the Manhattanville campus that have achieved LEED Gold.  In addition, the overall Manhattanville campus plan achieved a LEED-ND Platinum recognition –  the first higher education institution in the U.S. and the first organization in New York City to receive this designation.   
Columbia has committed to constructing all future buildings at the Manhattanville campus to a minimum of LEED Silver certification.