Public Safety Celebrates Employee Perfect Attendance and Promotions Over the Past Year
54 members of Public Safety were presented with certificates from their supervisors in recognition of their perfect attendance or earning a promotion over the past year. 
An incredible 45 members of Public Safety had perfect attendance, with three of those who earned perfect attendance joining another nine team members in celebrating a promotion. 
Despite not hosting the annual Public Safety Promotion, Awards, and Recognition Ceremony which has been postponed due to the pandemic, the recipients' commitment to serving the Columbia community with the values of pride, professionalism and service has never been more pronounced.   
"The last two years have been unlike any other in our lifetimes, with the pandemic redefining the way we live," says Interim Vice President of Columbia Public Safety Deidre Fuchs. "I am grateful and proud of the outstanding courage and commitment to duty that the Public Safety team has demonstrated daily to be present for the Columbia community."  
Image Carousel with 5 slides
A carousel is a rotating set of images. Use the previous and next buttons to change the displayed slide
Slide 1: Security Officer Pericles Almanzar Celebrates 11 Years of Perfect Attendance

Slide 2: Patrol Captain is Delano Steele celebrates 14 years of perfect attendance and retirement after 36 years on the team.

Slide 3: Technology Support Manger Osmond Ebanks Celebrates 8 Years of Perfect Attendance

Slide 4: Security Officer Joe Toribio Celebrates 1 Year of Perfect Attendance

Slide 5: Security Officer Emmanuel Grant Celebrates 1 Year of Perfect Attendance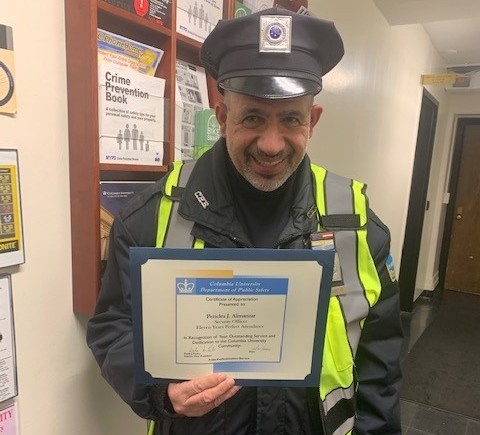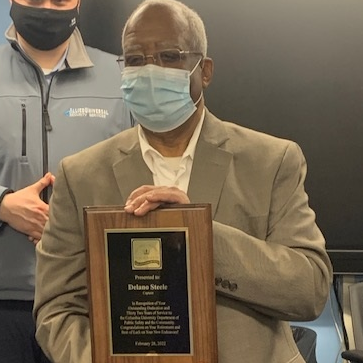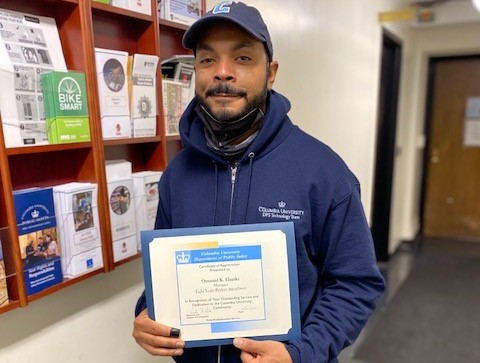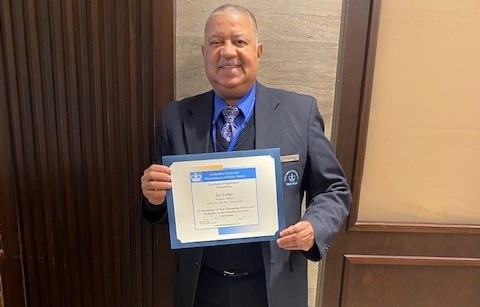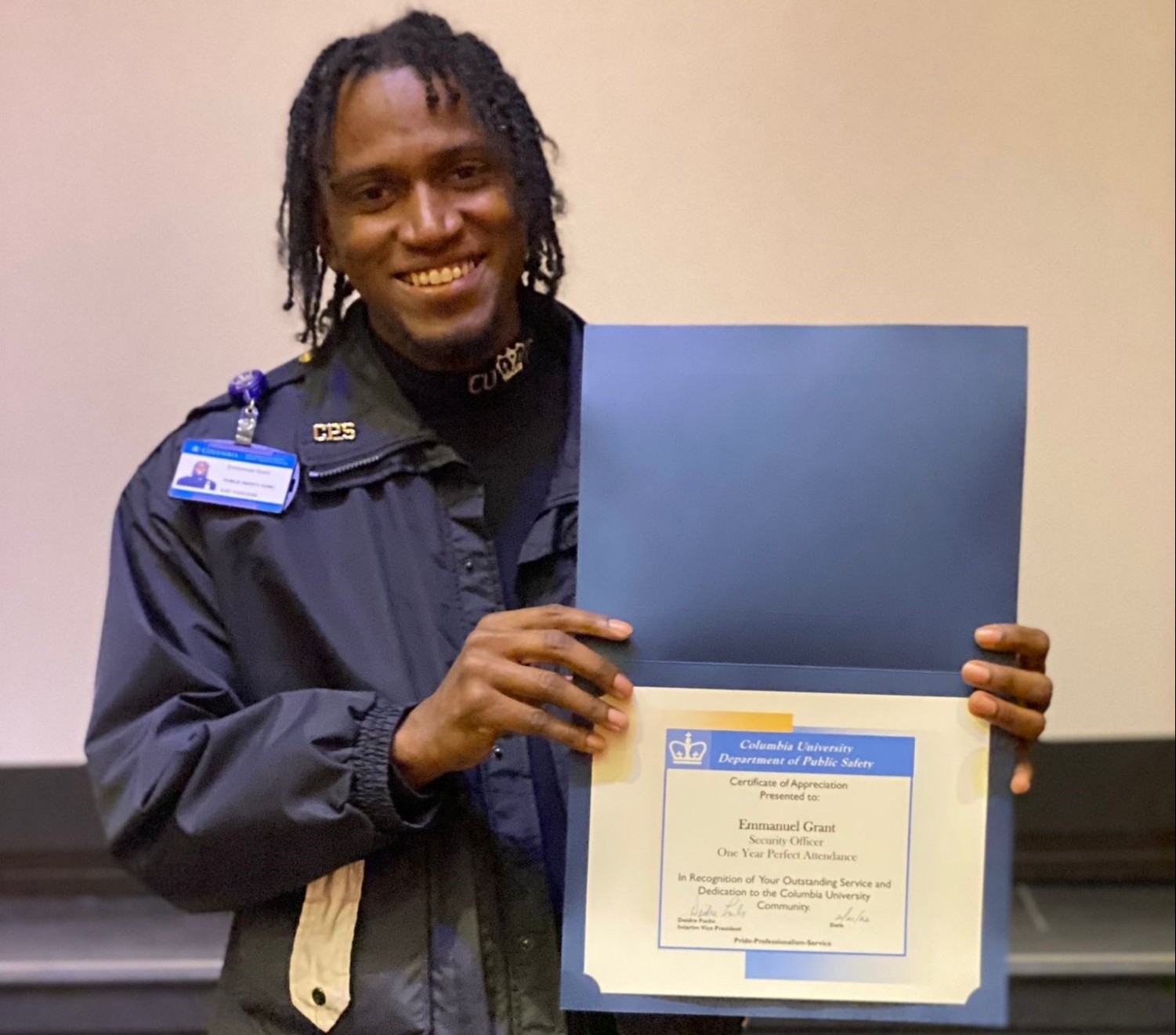 Previous
Next
Mahmood Ahmad, Morningside, Financial Assistant 
Jean Abraham, CUIMC, Security Officer 
Adeyemi Adegoke, CUIMC, Security Officer 
Pericles J. Almanzar, Morningside, Security Officer 
Anthony A. Anderson, Morningside, Security Officer 
Pasquale Antonacci, Morningside, Asst Director-Special Ops/Evnt 
Emmanuel Asante, CUIMC, Security Officer 
Mumuni Baba, CUIMC, Security Officer 
Marc J. Bowens, Morningside, Security Officer 
Kathleen M Caravello, Morningside, Sergeant 
Charles M. Dempsey, Morningside, Manager Tech System Admin 
Biram Diouf, Morningside, Security Officer 
Osmond K. Ebanks, Manhattanville, Manager-Technology 
Laurie G Edwards, Morningside, Security Officer 
Jorge L Farina, Manhattanville, Exec Director-Technology Proj 
Oscar Farina, Morningside, Manager-Physical Security 
Omar Garcia, CUIMC, Manager-Technology
Mark T. Gershon, CUIMC, Security Officer 
Emmanuel Grant, CUIMC, Security Officer 
Kwame Henderson, Morningside, Technician-Physical Security 
Luis C. Hinojosa, Morningside, Security Officer 
Jeoung Hwang, Manhattanville, Sr Support Sys Specialist 
Fernando R. Jaquez, Morningside, Manager-Technology  
Emmanuel Joseph, CUIMC, Security Officer 
Jimmy Lai, Morningside, Asst Director-Planning/Admin 
Michael W. Layne, Morningside, Security Officer 
Daniel Lord, CUIMC, Sr Investigator 
Barrington Lynch, CUIMC, Security Officer 
Antonio Merius, Morningside, Administrator-Physical Sec Sys 
Ricardo Morales, Morningside, Asst Director-Crime Prevention 
John J. Murolo, Morningside, Director-Public Safety 
Patrick J Oakley, Morningside, Director-Public Safety Ops 
Michael Pellegrino, Manhattanville, Investigator 
Omar Piron, CUIMC, Manager-ID Card Center 
Maria Elena Ramos, Morningside, Director-Finance & Admin 
Robert Ramos, Manhattanville, Director-Public Safety Ops 
Jaime Rodriguez, Morningside, Security Officer 
Lisandro Rodriguez, Morningside, Security Officer 
Mario Silvera, Morningside, Specialist-Tech Support Sys 
Delano R. Steele, Morningside, Patrol Captain 
Yiling Tang, Morningside, Director-Technology 
Joe Taveras, Morningside, Manager-Technology Projects 
Joe Toribio, CUIMC, Security Officer 
Bashir Tunau, Morningside, Security Officer 
Branko Mathew Yurisak,  Manhattanville, Assistant Director-MV