University Partners Celebrate New Accessible Classrooms in Chandler Hall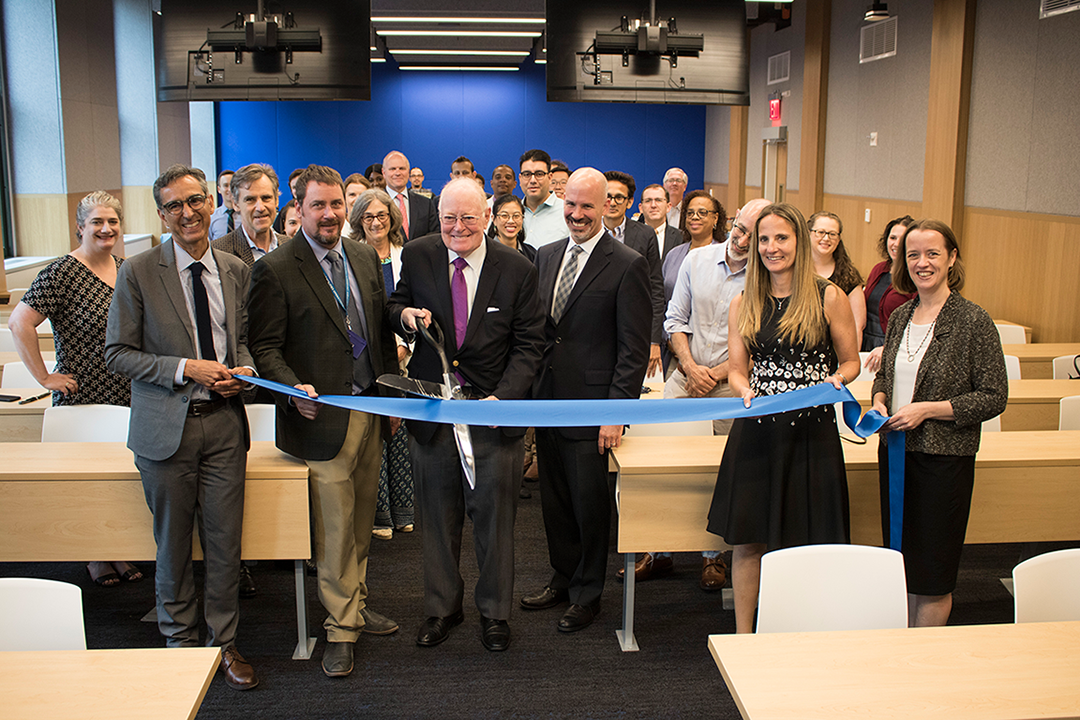 Celebrating the recent successful opening of state-of-the-art, accessible new classroom space in Chandler Hall, Provost John H. Coatsworth, Deputy Registrar Monica Avitsur, Columbia Health AVP and Medical Director Melanie Bernitz, and Facilities & Operations Executive Director for Space Planning Eugene Villalobos joined a group of University partners to officially open the renovated spaces.
Senior leadership cut a ribbon in the new large lecture hall, 402 Chandler, to mark the occasion.
The project was completed at the end of the spring semester and represents 4,500 square feet of new classroom and instructional space, transformed from the former Chemistry Library after it was consolidated into the Science and Engineering Library.
The renovated space includes one 126-seat lecture room, two 35-seat classrooms, two disability testing rooms, a wellness room, a gender-neutral restroom, and accessible men's and women's restrooms. All the new rooms contain key accessibility features for both students and instructors — accessible entryways, mobility seating, adjustable lecterns, and acoustic design with a low Noise Coefficient (NC35) to provide an ideal testing environment, eliminate noise from building systems and decrease other ambient noise. The lighting is also environmentally sensitive, using low-impact LEDs and automatically adjusting based on the amount of natural light available.
The new rooms join other recent projects to expand disability access, including replacing the outdoor stairs from Mathematics to Havemeyer Hall with a ramp, installing a permanent accessibility entryway to Havemeyer, and installing a new permanent ramp from College Walk to lower campus, next to Hamilton Hall. Next, construction of additional disability testing rooms is underway at Havemeyer, and new permanent ramps are being constructed from College Walk to both Low Plaza and Kent Hall.